Custom Extrusion for Point of Purchase Displays
Grocery stores and other retail locations use extruded rail strips, display channels, and price tag holders to convey product and pricing information to customers around the world. When it comes to selling products, retailers know there's a lot more involved with creating a product display that gets noticed, well beyond putting products on shelves and writing out prices. Creating an effective and appealing point of purchase display begins long before the retail stocker is called to duty.
At Inplex, we help retailers create displays from the ground up in virtually any color or style, including:
Display Channels
Rail Strips
Sign Poles
Display Legs
Shelf Strips
Banner Holders
Price Tag Holders
Shelf Edging
Point of Purchase Displays
When the average person considers a point of purchase display, a few fundamental components are likely to jump out: the products on display, their placement, and of course, prices. However, forward-thinking retailers understand the psychological impact of a well-placed modern-looking product display. As well as the negative impact of when a consumer sees displays with rusted sign poles, faded price tag holders, and worn shelf edging. Research shows that this perception is likely to sway customer behavior in 29% of shoppers, with another 14% deciding never to return to an unclean store.‌ Customers much prefer shopping in retail locations that feel modern and well-maintained.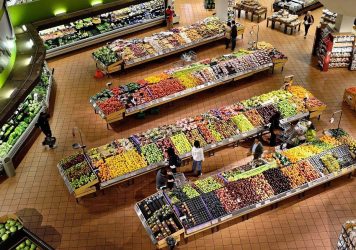 Customers Appreciate Attention to Detail
Consumers respond more positively to a display that includes clean, bright, streamlined rail strips, whether they actively notice these details or not. It's the little things that make the difference between quality displays that withstand many thousands of customer interactions and those that detract from the overall aesthetic in a retail location. Take, for example, the rail strips running along the bottom of a typical dry-goods grocery shelf. A faded, ragged rail strip can contribute to an overall vibe that the store is on the decline. In a word, it's all about standards.
It's easy to overlook the individual components that come together to form a quality retail display. Often, retailers pick the cheapest options. After all, the main functions of any retail display are to provide a place to organize products and communicate price point information to the customer. Why bother upgrading older shelving when it still gets the job done? Cheaply produced components, including poorly crafted display legs and non-uniform components like shelf strips, sign poles, and banner holders contribute to an unprofessional retail environment that is unlikely to stand up to sustained wear and tear. When retailers have to replace displays sooner than planned, return on investment (ROI) takes a big hit. As displays begin to deteriorate, there's also the question of how many customers will opt to shop elsewhere or purchase fewer items than they might have in a store that feels cleaner and well-managed.
‌Inplex Is Your Retail 'POP' Display Partner
At Inplex, we manufacture point of purchase displays to your exact specifications. Our focus is to create modern, durable components to construct the perfect point-of-purchase display for your retail or grocery store! You can count on us to manufacture retail point of purchase display assets quickly and within your budget.
‌
Is it time to upgrade your retail space with a fresh new look? Learn more about our retail display solutions, contact us today to set up a call or request a quote!
Back to Blog