Inplex is a leading custom plastic parts manufacturer that has been manufacturing extruded custom plastic tubing & profiles
since 1967
At Inplex, we take pride in producing high quality plastic tubing and plastic profiles for various industries. Our more than five decades of experience, varied applications, and selection of materials make Inplex your best choice for profile and custom plastic parts manufacturer.
Whatever your needs, Inplex has the expertise to extrude your plastic tubing from the most appropriate material for your application.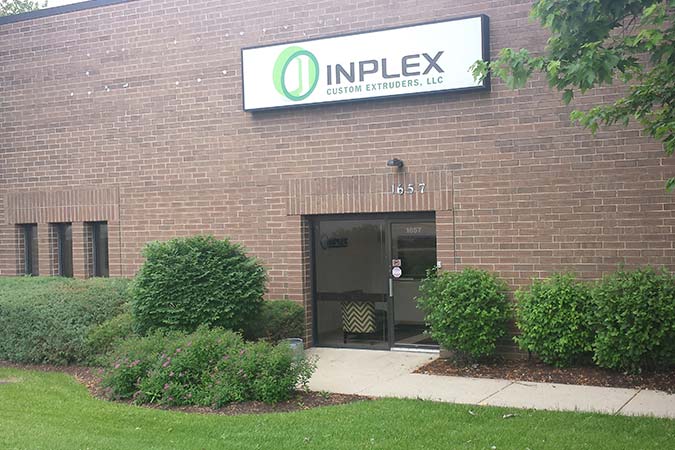 The History of Inplex
Inplex Custom Extruders, LLC is a privately owned plastic extrusion company that began in 1967. The current ownership is made up of 6 individuals that have owned the company for 19 years. Current annual sales volume has topped $15M, making Inplex a profitable and very financially secure plastic extrusion company.
Our company currently runs 3 shifts with 10 plastic extrusion lines. We own a 42,000 sq. ft. facility in Naperville, Illinois, that is temperature controlled and includes an environmentally friendly closed loop water cooling system.
Our employees are our best asset and we treat them like family. The average years of employment for our team of 62 employees is 16 years.
Inplex is also ISO 9001:2015 and IMS Certified. We employ a full-time Quality Control Team that is represented on all 3 shifts. Our maintenance staff and preventative maintenance program is also second to none in the custom plastic parts manufacturing industry.
We run almost 100 different resins from commodity grades to engineered resins such as Urethanes and Nylons. Our skilled team is capable of running profiles, tubing, pipe and coating of wire and conduit. We also utilize Co-Extrusion and Tri-Extrusion techniques.
Some of our most popular custom made plastic parts include:
We pride ourselves on being one of the top custom plastic extrusion manufacturers in the US, given our ability to put the right talent and technology in place to perform the best possible job for our clients. We desire to form long-term relationships with our partners and always provide the quality of products and services that exceed their expectations. 
Let us know what we can do for you!
Inplex produces a large variety of plastic extrusion products for a variety of markets, including but not limited to, general packaging for food and non-food industry, construction, industrial, medical, electrical, oil & gas and motor vehicles. Extruding plastic parts for different types of industries has helped us grow as a company and improve on our method of engineering to be continuously chosen as a top custom plastic parts manufacturer for plastic extrusions. 
Frequently Asked Questions
What makes Inplex one of the best plastic extrusion companies in the US?
Since 1967, we've prioritized quality plastic extrusion, experience, and customer satisfaction above everything else. What truly makes us stand out is our experienced employees, our 10 extrusion line capacity, flexibility of delivery, and our dedicated in-house engineering department.
We likewise utilize our own in-house tooling, which provides us with better quality assurance, ability to make changes on the fly, and helps us save production time. Overall, Inplex offers plastic tubing, profiles, coating and jacketing for all industry needs with vast material and color customization options.
What type of plastic materials can be used for extrusion?
The plastic extrusion process melts plastics, colors them according to specifications, and shapes them with the aid of plastic dies. When it comes to plastic extrusion manufacturing, a variety of raw plastic compounds and materials are used, depending on the product and industry needs.
Some of the most common plastic materials used in the extrusion process include ABS, Polyethylene (PE), Nylon, as well as Rigid and Flexible Vinyl (PVC). Other popular plastic materials include Kynar Fluoropolymer, High-impact polystyrene (HIPS), Polyethylene Terephthalate Glycol (PETG), Polycarbonate, Butyrate, and Polyurethane.
What items are made by plastic extrusion?
The plastic extrusion process is very customizable for all types of products and industries. Material can be made in a variety of sizes, shapes, and colors and can be customized to be flexible, rigid, transparent, or opaque.
Some of the most sought-after items made by plastic extrusion include:
Spray and Aerosol Dip Tubes, Lawn Sprinkler System Tubing, Irrigation Hose & Pipe, Lens Covers, LED Channel Strip Covers, Pavement Markers, Sign Poles, Snow Poles & Posts, Spray and Aerosol Dip Tubes, Irrigation Hose & Pipe, Rail Strips, Display Channels and Shelf Strips, Display Legs, Banner Holders, Price Tag Holders, Shelf Edging, Raceways and Busways, Conveyor Roller Sleeves and Covers, Plastic Rollers, Plastic Flaps for Warehouse Doors, Material Transport Plastic Parts, Outdoor Llighting Covers and Plastic Pergola and Cabana Parts.
What are some of the most popular plastic extrusion products you offer?
Inplex makes plastic extrusion products for many industries. We take pride in working with our customers directly to make their project visions come to life. This means that we customize our production to meet customer time-lines, costs, and shipment needs. Here are just some of our most popular plastic extrusion products:
Oil and gas tubing
Roller and conveyor covers
Lighting lens covers
Flexible and rigid pipes
Irrigation hose and pipe
Medical tubing
Lane separator posts
Lawn sprinkler system tubing
What everyone is saying about Inplex
"Working with Inplex over the last year has been a pleasure. Whether working on developing a new product, or tweaking our shipping and packaging requirements the team at Inplex has been quick, responsive, and open to truly partner with us moving forward. We look forward to growing with Inplex in the future."
Chris A, Commercial Tubing
Employment Opportunities
Experienced Extrusion Set Up Technicians
Inplex offers an exceptional company paid health insurance plan and a profit sharing program to men and women with experience and extrusion skills and a desire to join a team dedicated to customer satisfaction.
Please call (847) 827-7046 and ask for our recruiting manager.