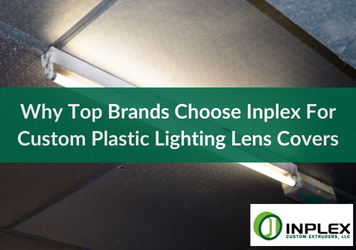 Why Top Brands Choose Inplex For Custom Plastic Lighting Lens Covers
The indoor & outdoor lighting we use every day is often filtered through custom plastic lighting lens covers. A lighting lens cover is an optical material that helps control the light emitted from a light source. Ultimately this lighting lens will control the light source and only allow it to distribute at a certain angle and or density. A custom plastic lens can provide persistent control over light angles. Inplex, a custom plastic extruder manufacturer produces top-rated custom plastic lighting lens covers. In the article below you will discover why top brands choose inplex for custom plastic lighting lens covers.
Inplex manufactures custom plastic lens covers, LED channel strip covers, and tubing for rope lighting that will align with your specifications and aesthetics. Whatever space your custom lighting lens covers will be used in, Inplex can likely manufacture them. We manufacture nearly every size, shape, and color of lens covers for use in homes, outdoor living spaces, businesses, and industrial settings.
Inplex has had years of experience with manufacturing custom plastic lighting lens covers in the U.S. In fact, Inplex has been producing reliable custom lighting lens covers for over five decades.
Top-Rated Plastic Extrusion Manufacturer of Custom Plastic Lighting Lens Covers
Are you aware that lens covers are responsible for filtering your lights so that they distribute brightness correctly without being too bright or too dim? Inplex Custom Extruders has been manufacturing lens covers and other plastic tubing products for more than 50 years.
From our experience, we know what types of plastic extrusion materials will work best for your project and we make sure that all the components we use are of the highest quality.
Inplex prides itself on being one of the top custom plastic extrusion manufacturers in the US. We continually have the ability to put the right talent and technology in place to perform the best possible job for our clients.
If you are seeking a plastic extrusion manufacturer for custom plastic lighting covers look no further than Inplex. Keep reading to discover just why top brands choose inplex for their custom plastic lighting lens cover projects.
While you are here, discover some of our most popular custom-made plastic parts. This includes the following:
Why Inplex Is Any Top Brands Ideal Choice for Custom Plastic Lighting Lens Covers
There are many reasons why top brands choose to work with Inplex. One of the strongest reasons is our unmatched quality control over our plastic extrusion process. Inplex is ISO 9001:2015 and IMS Certified. We employ a full-time Quality Control Team that is represented on all 3 manufacturing shifts. Our maintenance staff and preventative maintenance program are also second to none in the custom extruded plastic parts manufacturing industry.
Our plastic extrusion quality control provides your organization with the peace of mind that each and every custom extruded plastic application will be made with the highest quality plastic products and processes you can get from a custom plastic extruder.
Our advanced plastic extrusion manufacturing abilities and customer service are unparalleled in the plastic extrusion industry and account for a large reason why top brands work with us. Many top brands work with Inplex because they know we will get the extrusion work done when they need it due to our manufacturing capacity.
Some benefits of producing custom plastic lighting lens cover with inplex include:
Large capacity and nonstop runs
Extensive customer service with a highly experienced team
Knowledge of the custom extrusion industry for over 50 years
Another reason top brands choose to work with Inplex to produce custom plastic lighting lens covers is because of our amazing production facility. Currently, we own a 42,000 sq. ft facility that is temperature-controlled and includes an environmentally friendly closed-loop cooling system. When you choose to manufacture with us you can count on our company being more environmentally friendly than some of our competitors and overseas counterparts.
One thing that sets Inplex apart from competitors is that we send samples of our plastic lighting lens covers upon request. This means if you would like to see our high-quality plastic lighting lens covers before placing a bulk order you can reach out to let us know you would like a sample. We always want to provide our prospective customers with the things they need to make an adequate decision on placing an order with us.
With this in mind always remember to reach out when you have questions about our products, capabilities, and other company inquiries. In the time being, check out Inplex's frequently asked questions for industry-specific information.
Custom Plastic Lighting Lens Covers For Indoor and Outdoor Use
Whatever your plastic light cover needs, we have over five decades of expertise in manufacturing custom plastic parts for indoor lighting and keep perfecting our craft every day. If you are looking for custom plastic lighting lens covers for either indoor or outdoor use Inplex is your top choice.
Inplex can be your trusted custom extruder for both indoor and outdoor plastic lighting lens covers. We will manufacture outdoor & indoor product components designed to meet your exact specifications. A handful of certifications and rigorous quality inspections will ensure top-quality outdoor & indoor plastic components every time. Create the indoor or outdoor environment you want with Inplex custom Extruders.
Most Popular Requests for Inplex's Custom Plastic Light Covers
Now that it's been explained why top brands choose Inplex it's time to showcase the most popular requests Inplex receives when it comes to custom plastic lighting lens covers and applications. Inplex Custom Extruders offers a durable and fully customizable range of lens covers, rope lighting tubing, and LED channel strip covers. Discover more about the materials used for the applications below.
Custom Plastic Lens Covers Materials
ABS is highly versatile and has a matte finish. Use a natural amber or off-white for a traditional look or get creative with colors.
HIPS also known as styrene, is great for projects on a budget. It's lightweight but still offers you a variety of color options. This product is also recyclable as a final product.
LED Channel Strip Covers Materials
When you have LED strip lighting that needs protection from dust, water, and foot traffic, you need a sturdy rigid plastic. Common choices include:
Custom Plastic Tubing for Rope Lighting
Rope lighting provides lots of flexibility for design, but plastic tubing is crucial to maintain its quality.
Find Custom Plastic Lighting Covers Near Me
Inplex Custom Plastic Extruders can supply your custom plastic lighting lens no matter where your organization is located within the US. You can count on Inplex to supply high-quality lighting covers and provide reliable supplies. Inplex is located in Naperville Illinois and manufactures custom plastic lighting lens covers right here in the USA.
Whatever your needs, Inplex has the expertise to extrude your plastic lighting lens covers from the most appropriate material for your application. With Inplex's amazing production facility, top-rated quality control, and manufacturing abilities we are ready to create custom plastic lighting lens covers for you.
Speak to a plastic extrusion specialist today and submit a request for your next plastic lighting lens covers project today.
Back to Blog