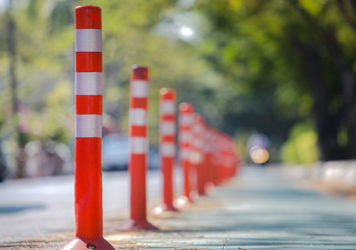 Highway Safety Products
The use of pavement markers, sign poles, snow poles, roadside delineator posts, and lane separators can dramatically improve the safety and movement of vehicles on local roadways and parking areas, while also helping corporations and family-run businesses reduce liability concerns. Operations and facilities managers should consider a cost-benefit analysis regarding extrusion products that slow and direct traffic in a smooth and safe manner. While educational campaigns help teach drivers safe techniques, the owners of businesses and job sites can help reduce these risks by installing highway safety products.
There are many kinds of highway safety products that are used frequently by retail chains and other individual and corporate businesses. Some of the most common include:
Pavement Markers
Raised pavements markers help drivers improve their awareness and understanding of lane options. These highway safety products are usually constructed with plastic, and also frequently use some kind of reflective material, often a lens or sheeting, to increase their visibility by reflecting vehicle headlights. In America, these markers have colors associated with them. White markers are used to mark the right-hand edge of the pavement, while yellow or orange markers indicate a separation of traffic. Blue markers indicate the location of fire hydrants, while green markers are frequently used in residential communities to guide emergency vehicles. Red markers indicate that a section of road or parking lot is closed to traffic. Of course, facilities and safety officials for businesses can choose other colors and plastic profiles that make sense for their needs. Some prefer to use pavement markers as an extension of their branding color scheme, to enhance safety and provide a uniform design to the property.
The plastic profiles used can be either flexible or rigid. Flexible profiles are constructed with polyurethane, Santoprene and flexible vinyl (or FPVC). Rigid profiles are made from ABS, rigid vinyl (RPVC), high-impact polystyrene (HIPS), polycarbonate, butyrate, propionate, and PETG. Manufacturers are able to determine the proper materials, which can be customized for any particular safety need.
Sign and Snow Poles
Proper signage is important, but signs can pose hazards of their own, as drivers frequently hit sign poles. This creates the potential for liability claims. One solution is to use plastic tubing as an alternative to metal or wood for sign poles and snow poles. Plastic tubing comes in a variety of bright colors, can be used for a variety of highway safety measures, and can be cut to length or slit full length to fit around poles. There are stock colors and custom matching for branding opportunities as well.
Roadside and Lane Posts
Roadside delineator posts and lane separator posts are perhaps the most common highway safety products. They are used for creating safe traffic patterns in business and construction areas. These posts extend perpendicular from the asphalt and are created through a process known as plastic extrusion.
Inplex and Highway Safety
Custom extruders melt down plastic materials and force it into a mold, which is also known as a die. This allows the melted plastics to form a shape and a profile, which will then be mechanically cut and finished. As with other highway safety products, this offers the opportunity for customization. These products can be designed in a variety of sizes, shapes, and colors. This lets facilities managers and business leaders provide a safe, responsible environment that is also welcoming and pleasing to customers. By using plastic profiles or plastic tubing for posts, poles, and markers, operations personnel are more easily be able to change locations when required. This is especially important during construction projects. It also offers business owners the freedom to improve traffic patterns during peak traffic times, such as holiday seasons. Working with clients throughout the nation to improve highway safety, Inplex LLC has more than 50 years of experience in manufacturing extruded custom plastic tubing and profiles. To learn more about the benefits of highway safety products and plastic extrusion, or to request an online quote for a custom order, contact us today!
Back to Blog