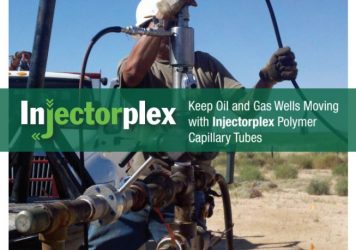 Injection Tubing for the Oil and Gas Industry – Injectorplex
Injectorplex is a proprietary solution created by Inplex Custom Extruders specifically for oil and gas injection tubing. The benefits of using Injectorplex instead of stainless steel are abundant. Whether you're looking to lower material costs, enhance convertibility, lengthen product life-cycles, or reduce your carbon footprint, Injectorplex proves superior in virtually every facet of performance. In the oil and gas industry, a little thing can make a big difference, and you can't afford to take chances with an unproven method. Your injection tubing may only be one component of your oil and gas business, but it's an essential component of your operations. If your tubing isn't as reliable as it could be, you're taking on more risk than necessary.
Titan Dual Titan Capillary Tubing

This high-performance tubing is designed for extreme durability and resistance to both thermal and chemical damage. It features high dimensional stability, is extremely flexible, and has a strength-to-weight ratio that is far superior to that of stainless steel. Not only is it easier to handle and transport, but the Titan line can also significantly reduce your costs related to materials repair. It doesn't corrode or gather scale, so it doesn't need to be replaced nearly as often as traditional stainless-steel tubing.
The Dual Titan type serves more advanced needs thanks to tandem cavity access and simultaneous bi-directional flow. Both models are smart investments as they're budget-friendly without compromising on quality and are more sustainable than other options, with up to 25% post-industrial recycled content.
Injectorplex Kryptonite (PPS)
Kryptonite offers all of this resistance while still being easy to use. It weighs only 45 pounds per thousand feet of tubing, significantly and noticeably less than the weight of comparable stainless steel. It's lighter but doesn't require you to sacrifice strength —its tensile strength at the structural break is an ISO-compliant 7250 psi. This performance tubing is made of a semicrystalline thermoplastic that resists damage from a wide variety of on-site environmental threats, including:
Solvents, acids, bases, and high-temperature oils
Hydrocarbons and other fluids
Paraffin accumulation
Water absorption
Fires
Corrosion
Acids and bases from pH 2 to 12
Quality Control
We're only interested in releasing plastic extrusion tubing that we know will meet our customers' needs and standards. That's why we've invested in quality assurance mechanisms that check the structure and function of everything we do. Our QDA 9 Datamyte software collects dimensional data and confirms specifications for Statistical Progress Control (SPC) reports. Our Admet eXpert 7601 uses a digital controller and advanced software to test the tension and break capabilities on all flexible polymer products. Our non-contact laser micrometers keep a constant eye on the manufacturing process, ensuring that dimensions are correct according to the customer's needs.
ISO Certification
At Inplex, we maintain ISO 9001:2015 and IMS certifications in good standing. Having an ISO certificate means that Inplex meets these internationally accepted standards at all phases of its process, from order entry to product calibration. These internal quality assurance steps are overseen by our full-time quality team. As plastic extruders, we understand how important quality assurance is and why we've gone through the process of getting an ISO surveillance audit and a Certificate of Registration for our Quality Management System.

The Injectorplex Advantage
With our focus on quality and customer service, we're confident that you will benefit from making the change to Injectorplex for all of your oil and gas capillary tubing needs. Thanks to our Quality Control and many more standard features, we can confidently offer our plastic extrusion fabrication services to companies across the oil and gas industry. Injectorplex gives you the reliable function that you need and with more durability than stainless steel – while saving you money in the process.
Inplex can help you make your next move toward increasing your profits, reducing your risk, and growing your business. Please feel free to contact us directly or request a quote to begin the process of finally switching from stainless steel. Get in touch today!
Back to Blog