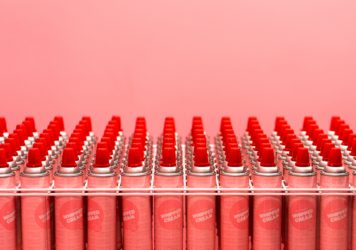 Inplex Extrudes Beauty into Everyday Life
For over 50 years, Inplex has been in the business of manufacturing high-quality plastic products for a variety of different markets, including the beauty and cosmetics industry. We take great pride in the work that we have done for beauty companies, producing high-grade dip tubes, and custom profiles to satisfy our customers' packaging needs. Poorly designed or low-quality packaging reflects badly on your business. It can leave your customers unable to effectively apply your products, which can lead to frustration and dissatisfaction with your brand, making for fewer repeat purchases. Your customers want products to be effortless to apply. Only superior-quality plastics offer the reliability needed to make that possible. Inplex understands just how important these packaging elements can be, so we take great care in the production of our custom plastic profiles. We engineer these profiles to your exact specifications and design them with both functionality and overall aesthetic in mind.
What do shampoo bottles, lipstick tubes, and perfume bottles all have in common? Aside from helping to store common beauty products used by millions of people every day, these distinct product packages feature plastic pieces that serve very specific purposes. While often overlooked by the average consumer, industry professionals know just how important these pieces are to the effectiveness and functionality of packaging. High-quality plastic products such as dip tubes and plastic profiles are absolutely vital to the success of your beauty brand or company. At Inplex, we manufacture custom plastic tubing according to your exact specifications. You may request specific lengths and diameters for your tubes, then choose from our selection of stock colors or custom match colors to your requirements. You can even choose from transparent, translucent, or opaque tubing to create the look that best suits your brand or product requirements. No matter what your needs are, we can deliver a product that not only meets them but exceeds your expectations.
High-Quality Flexible Plastic Dip Tubes
In containers that dispense products with pumps or spray nozzles, the dip tube is quite possibly the most important part. Every time your customers press on your product's pump or squeeze the trigger on its spray nozzle, they should feel confident that product will be drawn through the tube, out of the container, and into their hands seamlessly, ready for easy application. Poor-quality plastic dip tubes can cause the product to become stuck and unable to dispense properly. This is an issue you should avoid at all costs. Thankfully, high-quality dip tubes from Inplex allow you to rest assured knowing that the quality of your product packaging is guaranteed, no matter what your requirements are.
We offer several different materials for our flexible plastic tubing, each with its own particular uses and characteristics:
Polyurethane – very tough; abrasion and cut-resistant
Santoprene – lightweight and rubber-like
Flexible vinyl (FPVC) – versatile; excellent for outdoor applications
Low density & linear low-density polyethylene (LDPE and LLDPE) – economical; has good chemical resistance
Flexible nylon 11 & nylon 12 – tough and chemical-resistant; has a high heat deflection temperature
High-Quality Custom Plastic Profiles
Sometimes the most important parts of quality beauty product packaging are the ones your customers seldom pay attention to, like the twist tube of a lipstick or the cap of a nail polish bottle. Much like dip tubes, each of these plastic pieces needs to be designed with precision. Improper design can cause loose product seals or ill-fitting pieces, leading to damaged products and customers dissatisfied with the difficult application of your cosmetics.
We offer two types of plastic profiles in a number of different materials depending on your specific requirements.
Flexible Profiles
Polyurethane – resilient and scratch-resistant, available in several hardnesses
Santoprene – light and pliable; durable and chemical-resistant
Flexible vinyl (FPVC) – multi-purpose; available in industrial or FDA grades
Rigid Profiles
ABS – high impact with satin finish; mid-cost
Rigid vinyl (RPVC) – available in FDA or outdoor grades; moderately priced
High impact polystyrene (HIPS) – lightweight with a flat finish; economical
Polycarbonate – tough; has a high heat deflection temperature
Butyrate & Propionate – clear, glossy finish; resistant to UV exposure
PETG – tough, FDA approved; moderately priced
What Makes Inplex Unique
Inplex is unique in that we manufacture both dip tubes and custom plastic profiles. Our customers don't have to go between two different companies to finalize the packaging for their products. Most plastics manufacturers only produce a few different types of products, making it difficult to get what you need all at once. Some customers find that they need to go to two or more companies to get dip tubes and plastic profiles for all their beauty packaging needs, costing precious time and money. We can design dip tubes and plastic profiles all in one place, making it easier than ever to get the high-quality plastics you want with as little hassle as possible. Whether you need tubes for shampoo bottles or plastic profiles for perfume, Inplex is a one-stop-shop for all your plastic extrusion needs. We are also dedicated to the quality of our products, as we know precision dip tubes and resilient plastic profiles are absolutely invaluable to high-performing beauty product packaging. Our customers in the beauty industry rely on us to provide them with exceptional plastic extrusions, and it is a job we take very seriously.
Inplex creates plastic profiles to meet the needs of any beauty product packaging to your specifications and cut to the length you require. You can choose between varying levels of opacity in a variety of stock or custom colors. No matter your custom plastic profile needs, we are committed to delivering the quality and service you deserve, making the end result an easy-to-use, affordable product that performs beyond your expectations.
Customers at Inplex receive first-rate support as well. We do our best to make sure that the ordering process for both dip tubes and plastic profiles is as seamless and cost-effective as possible. We know it's important for you to get the right plastics for your products, so we'll take care of everything—leaving you with efficient and affordable product packaging. Want to see how Inplex can help you with your packaging needs? Looking to request a quote for your next custom plastic extrusion order? Just give us a call at (847) 827-7046, or fill out the contact form on our website to get in touch with an Inplex representative. We look forward to hearing from you and assisting you with your version of perfection.
Back to Blog