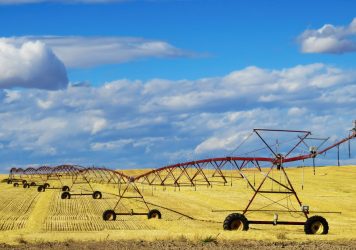 Inplex for Agriculture
Plastic Tubing Plays an Important Role in Agriculture
At Inplex, we know custom plastic tubing plays an important role in agriculture, from tubing for crop irrigation to custom extrusion lines made to feed livestock. Today's agriculture technology landscape has become increasingly sophisticated. Plastic tubing helps irrigate fields, simplify livestock feeding, and enables industrial farms to operate at scale. Extruded plastic tubing is an intrinsic part of how working farms stay active and meet their most important production goals.
Tubing for Crop Irrigation
Farmers that monetize their operations primarily through crop yields need creative ways to increase their harvests while controlling costs and lowering the need for labor. Automated crop irrigation through custom-crafted plastic tubing or piping enables farmers to pair extensive networks of piping with forced water systems. Irrigation happens on-demand based on environmental conditions or on a regular schedule, depending on the crops, location, and long-term agricultural goals. Working with a custom plastic extrusion provider allows you to select durable hard plastic profiles for irrigation piping or flexible soft tubing to adapt to different terrains. Farmers must customize irrigation setups to a variety of factors. Selecting an experienced extrusion partner that works with a range of thermodynamic plastic base materials offers ultimate choice while creating a system that's right for your needs.
Grow Tubes
When you're sprouting seeds at scale, grow tubes can help ensure that you're cultivating healthy seedlings before the growing season to get the most out of every day they're in the ground. From flat growing tubes to accommodate specific crops to hearty structures that can expand the growing window in cold climates, plastic grow tubes are an important asset to any crop-based project. Individual grow tubes can also help improve the viability of individual crops when they're planted or to support their structural integrity as they grow. A custom plastic extrusion partner can craft a solution that's personalized to your agricultural needs.
Automated Livestock Feeding
Today's working farms rely on efficient systems to keep their livestock fed and watered. With hundreds or thousands of animals on-site at an industrial farm, relying solely on human labor to keep tight husbandry schedules isn't feasible. Automated feed systems work in a variety of settings. Use cases vary from bird to hog application, from chicken feeding to dry feed and liquid supplements for hogs. Customized plastic tubing can deliver water, grain, chicken feed, and even supplements to livestock quickly and efficiently. The design and profile of the plastic tubes or pipes used will vary depending on the substance they carry, the layout of your farm, and the control systems they connect to. By working with a customized plastic extrusions provider, it is possible to craft the solutions you need to your exacting and unique specifications.
Sterile Dairy Operations
Caring for and milking hundreds of cows daily is an intensive operation. One of the most important factors to profitability for industrial dairy operations is the quick, efficient, and sterile processing of their milk. Increasingly, industrial firms are working with custom plastic extruders to develop systems that can transfer milk from the barn site to the work areas where milk is processed. Taking milk directly to refrigeration and sterilization equipment makes it easier to comply with FDA regulations. These systems also help farms maximize revenue by preserving the quality of their milk and moving it through the production process in a fast, clean, and cost-effective way.
Some of our unique offerings at Inplex include:
The ability to develop both hard and flexible profile extrusions to your most exacting specifications.
Decades of experience working with tubing and profiles unique to agricultural applications.
Advanced co-extrusion experience that allows us to combine multiple base plastics to create unique solutions.
Additives that can increase a pipe's ability to withstand liquid, extreme heat, or other conditions that your plastic tubing may face in an agricultural setting.
Flexible color selections that allow you to implement advanced agricultural management and inventory practices using colored pipe systems.
Experienced professional advisors who can work with you to design, craft, and deliver the solutions you need for your agricultural setting.
Choose Inplex as a Partner for Agricultural Extrusion
At Inplex, we understand developing the right systems will help your farm grow.  We have over 50 years of experience in creating customized plastic solutions for agriculture, alongside industries ranging from manufacturing to oil and gas. When you need cost-efficient, durable plastic tubing or piping that meets your specifications on the first run, we're the partner industrial farms and agricultural brands turn to. If you're an agricultural organization or retailer serving the market, get in contact with us today to discuss how our custom plastic extrusions can help you develop the right solution for your unique agricultural needs.
Contact Inplex today to discuss how our custom plastic extrusions can help you!
Back to Blog