What Are The Top 5 Benefits of HIPS Plastic?
From its easy-to-mold workability to its lighter weight, High Impact Polystyrene (HIPS) has properties that make it suitable for many applications. Is HIPS plastic the right choice for my product? Learn the top 5 benefits of HIPS Plastic from Inplex Custom Extruders.
PMMA, ECTFE, EPDM — Some plastics have long acronyms that are difficult to remember, but one of them is as simple as it is versatile: HIPS. Short for High Impact Polystyrene, HIPS plastic can be found everywhere from the sterile packaging industry to point-of-purchase displays. 
HIPS plastic was first invented in 1961 by Charles F. Fryling. HIPS plastic has the workability and cost-effectiveness to make it a go-to material in all sorts of applications — and it's better for the environment than some other plastics, too. 
Looking for a plastic that's workable enough to achieve your design while maintaining the properties your product needs? Check out what HIPS can do for you.
What Is HIPS Plastic?
In simple terms, HIPS is a rigid, economical, lightweight plastic that is good for tubing and profiles.
From a chemical standpoint, High Impact Polystyrene possesses at least one polybutadiene chain connected to the backbone chain from which polystyrene is made.
Because polybutadiene is a synthetic rubber, which has superior energy absorption, the result is a HIPS plastic that has significantly higher impact resistance than its notoriously brittle polystyrene predecessor. 
Despite its improved performance over standard polystyrene, HIPS plastic is still relatively inexpensive to produce. That makes it a reasonably tough yet low-cost choice for many durable, everyday products — and it has other benefits to offer as well.
High Impact Polystyrene: Top 5 Benefits & Properties
In addition to its greater toughness, HIPS plastic possesses several other material properties that help it deliver valuable benefits to the products they're made from. Some of them are:
1. HIPS Plastic is Highly Malleable
The presence of its flexible polybutadiene chains makes HIPS plastic highly malleable, as it can easily be worked into a wide variety of shapes. This means HIPS plastic can be a good choice for tubing, profiles, or irregularly-shaped plastic products. 
2. Is a High Impact Polystyrene Considered a Strong Plastic?
It's considered a lower-strength material relative to other plastics, but for all its malleability, HIPS plastic is still sufficiently strong. Having a tensile strength of 24.8 MPa (3,600 psi) and tensile modulus of 1.8 GPa (261 ksi) according to ASTM standards, this plastic is capable of withstanding enough force to make it a suitable choice for the packaging industry, and many other products as well. 
3. Does HIPS Plastic Meet FDA Requirements?
HIPS plastic meets FDA requirements, so it's considered food-grade safe. That coupled with its high machinability makes it an excellent material for utensils, point-of-purchase displays, and other items found near your food. 
4. What Colors can High Impact Polystyrene come in?
HIPS plastic is naturally clear, but it can easily be colored to any of our stock or custom options. It's also easy to print on, which makes adding logos a breeze. 
Inplex Custom Extruders offers custom color tubing. We can match stock colors or custom-match your requirements. In fact, Inplex offers a wide range of stock and custom colors in addition to various opacities, from transparent to translucent to fully opaque.
5. Is HIPS Plastic Recyclable?
The fact that HIPS plastic is FDA compliant, coupled with its use in lightweight applications, also means that the products it's used to make are often recyclable. 
This makes HIPS plastic more environmentally friendly than other plastics that can't be repurposed. 
The environmental impact of plastic is becoming a constant worry for people.
Consumers are becoming more eco-conscious. This is why we see more people purchasing sustainable products. According to a Forbes article titled "Global Consumers Drive The Market Toward Sustainable Retail", two out of five US online consumers prefer to buy environmentally sustainable products.
HIPS plastic is perfect for manufacturers looking to reduce their carbon footprint, and join the eco-conscious consumer market. High Impact Polystyrene is recyclable plastic, that can be reshaped many times using heat. HIPS is perfect for a wide range of applications. 
What Is High Impact Polystyrene Used For?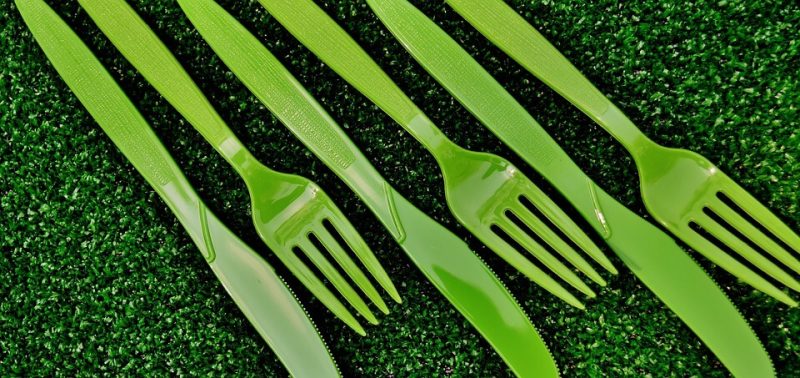 From the grocery store to the packaging plant to the factory floor, this versatile plastic is a staple across all sorts of sectors. Some examples are:
Knives, forks, and spoons in the

food grade industry

use HIPS Plastic.

Elongated profiles found on

display stands

are created from HIPS Plastic.

Containers and trays in the

packaging industry

HIPS plastic makes lightweight tubing and profiles common to

household goods

High Impact Polystyrene creates molded parts used to assemble

toys
Because of its low cost and high machinability, HIPS plastic is often used as a replacement for molded zinc in many industrial applications. It can even be found in the transportation industry, as it's a common component in several aircraft and automotive parts. 
HIPS Plastic vs. ABS Plastic
HIPS Plastic and ABS plastic (Acrylonitrile Butadiene Styrene) are rigid versatile high impact plastics. Your custom extruder expert, Inplex, is here to explain the difference between the two. Both thermoplastic resins are available at Inplex. To see brief descriptions of the thermoplastic resins available at Inplex check out our custom tubing material page.
What is ABS Plastic?
In a brief summary, ABS plastic is a rigid versatile high impact plastic. It is good for tubing and profile applications where outdoor properties are not required. The cost of ABS is the mid-point between engineering and commodity grades.
Comparing HIPS to ABS Plastic
Both materials have their own unique strengths and capabilities. ABS is a stronger compound that is used mostly in the automotive industry. Whereas HIPS is a strong plastic with more versatility. 
HIPS plastic is used in less harsh conditions. ABS plastic has higher impact resistance, heat resistance, and flame retardant. 
When it comes to price HIPS can be used for more products and is far less expensive than ABS. HIPS shares similarities with ABS in regard to features. For more information on ABS plastic check out Inplex's blog which discusses Why ABS Plastic is Best for Your Custom Plastic Project.
Why Choose Inplex Custom Extruders
 The Inplex strategy of commitment to quality, employee retention, and top-level customer service has led to the company being a successful and financially secure business. 
We strive to deliver only the highest quality plastic tubing and plastic profiles. This is why we've invested in quality assurance mechanisms that check the structure and function of everything we do.
Inplex maintains both ISO 9001:2015 certification and IMS certifications. An ISO certificate means that Inplex meets internationally accepted standards. We have maintained our ISO certification for 9 years in a row, and we look forward to many more years to come.
Choose Inplex as your custom extruder if you seek top-rated custom plastic tubing and profiles, trusted quality assurance, and great customer service.

Inplex Supplies Your HIPS Plastic Needs
If you need a lightweight, cost-effective plastic that's versatile enough to accommodate your product's design while still being durable enough to withstand more force than conventional polystyrene, HIPS plastic may offer the balance that you need. 
At Inplex, our experienced team of engineers offers a wide variety of plastic resins — and we've been doing it for the last 50 years. We're highly familiar with the most common High Impact Polystyrene uses as well as its limitations, and we're happy to help you find a plastic resin that fits your application. 
Inplex Custom Extruders has some of the most advanced facilities in the industry, enabling us to fill orders of many custom needs and sizes. 
Whether you have an existing product and are looking for an efficient way to meet customer demand or you have an idea for a product that doesn't yet exist, Inplex Custom Extruders is your solution. Contact us today and see which plastic meets your needs.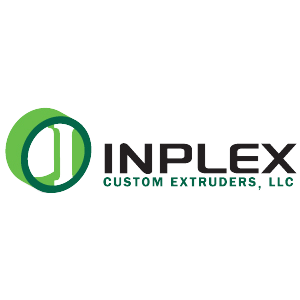 Back to Blog