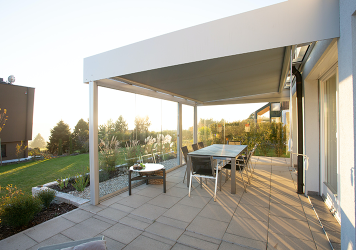 Why Top Brands Choose Inplex for Custom Plastic Components in Outdoor Products
Plastic is often the component material of choice for building pergolas, cabanas, and other outdoor products — as long as you've got the right manufacturer for the job. Finding a manufacturer that can create components for pergolas, cabanas, and other custom plastic outdoor products is important. For their unmatched quality and unique custom plastic manufacturing capabilities, Inplex is often chosen to create custom plastic components for pergolas and other outdoor product designs.
Anyone who's enjoyed the outdoors beneath the shade of a pergola or cabana knows how relaxing they can be — but there's a market for them as well. The outdoor furniture market was worth over 9 billion dollars in 2021, and a large part of it is from luxury products like pergolas. Many of these outdoor products are or can be, manufactured with custom plastic components by Inplex. Many manufacturers find that the durability, cost, and versatility of plastic make it an ideal material for outdoor product components.
So, what kinds of custom plastic outdoor products and components can Inplex build for your project, and why choose to use plastic? Read on to find out.
What Custom Plastic Outdoor Products Does Inplex Make?
From heavy-duty industrial applications to everyday plastic products found around the home, Inplex manufactures a wide range of plastic products, including many you'll find outdoors. Here's a look at a few of our possibilities in custom plastic outdoor products and components.
Custom Plastic Parts for Pergolas
Perfect for those looking to enjoy the outdoors but who want some protection from the elements, custom pergolas are a luxurious outdoor item. A pergola is made of a series of columns or pillars, with a lattice roof that lets in the sun — though some may offer full shade. Some pergolas may be free-standing, while others may be attached to another structure. Many of these products need moving parts or other components, and plastic is a great choice for manufacturing these parts.
When considering which material is best for custom pergola components, choose a material that won't lose its finish amidst constant light exposure, and that's durable enough to withstand outdoor conditions. You'll need a material that can be easily built to your exact specifications and produced in volume. Manufacturing cost is another important consideration, choosing a material that's affordable helps keep overall costs down. That's why choosing plastic for various pergola components is a smart and economical choice. You can also select a variety of plastic color options when you choose Inplex Custom Extruders to create the custom plastic parts you need.
Some popular pergola products on the market today use various custom plastic components manufactured by Inplex. These luxury pergolas are cutting edge and come in a variety of options to meet your needs. Through Inplex's custom plastic manufacturing capabilities we create plastic components for a pergola design that truly stands out. Our unique manufacturing capabilities give our clients options in materials, color, and design.
Custom Cabana Parts Made From Plastic
People who have been to a beach resort or luxurious suite have likely seen a cabana, but they may not know what sets it apart from other outdoor structures. Unlike pergolas, which are open on all four sides, cabanas are enclosed on three sides, with the fourth side open to enjoy a beautiful view. Perfect for outdoor grilling, enjoying the view, or a romantic escape, cabanas bring the best of the outdoors under one cozy roof.
Most cabanas have an enclosed roof, but some custom cabanas may have louvers to let in the sun and keep out the rain if needed. The extra material needed to build cabana components means a low-cost, lightweight material is best, which is why many find plastic parts to be the best route. If you are looking to create quality cabanas, consider using custom plastic parts manufactured by Inplex. Whatever your project specifications are, the team at Inplex can help you design it.
Plastic Parts for Other Projects Like Arbors, Gazebos, and More
Aside from pergolas and cabanas, there are many other outdoor products that can be made from plastic. Some of them are:
Arbors, which are portable arches often used for outdoor weddings or gardens
Gazebos, which are typically rounded and have enclosed roofs, with open space for picnics or swings
Decorations to compliment your outdoor space
Lawn care items, for keeping your yard pristine
Furniture, for enjoying your garden or patio
As diverse as these outdoor products are, they share several traits in common: need for portability, custom color, and durability. Lightweight extruded plastic components provide all of these traits and can be made in vibrant colors that fit any outdoor space. Custom plastic components increase the lifetime of outdoor products.
Inplex carries a wide range of plastic resins that come in many different finishes and colors to meet any project need. Colorful and lightweight, custom plastic outdoor products can help bring a yard to life for many years to come.
Why choose Inplex for your pergolas, cabanas, and other custom outdoor products
As one of the leading custom plastic extruders, Inplex is able to manufacture outdoor product components designed to exact specifications every time. Our certifications and rigorous quality inspections ensure a top-quality product every time. Our vast manufacturing facilities and wide range of plastics materials enabled us to get the job done according to our client`s satisfaction, and we help deliver a product that customers adore.
If you have a project involving a custom plastic outdoor product, contact Inplex today, and we'll put our experience to work for you.
Back to Blog